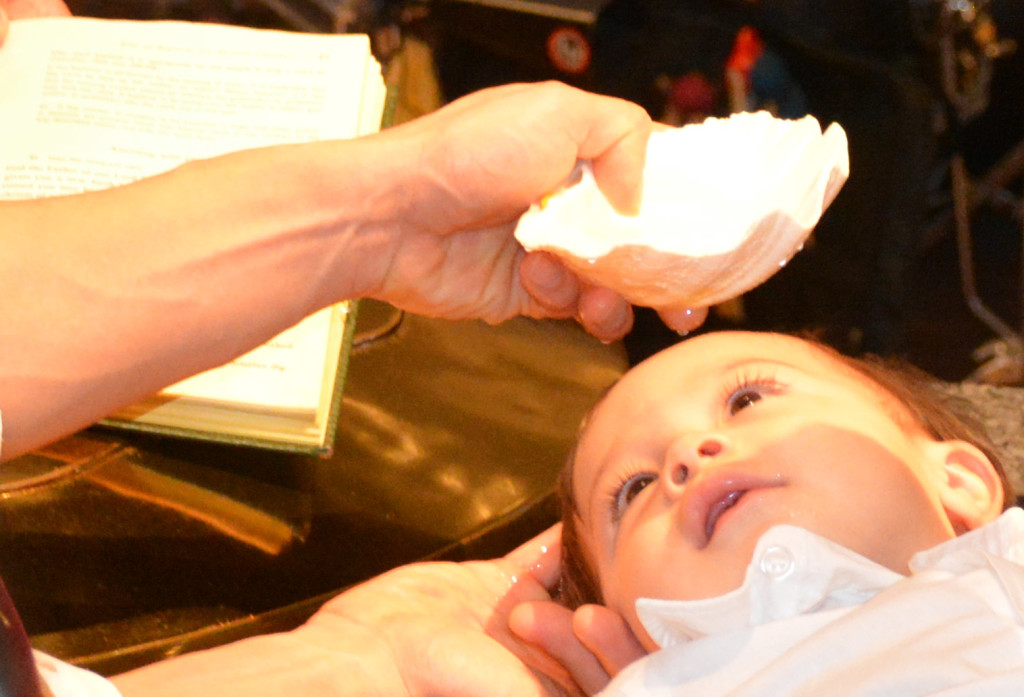 Baptism.
With the power to change your child's life, you can be the vessel that will allow them to be the best version of themselves and become the holy, healthy, and vibrant person that God created your child to be.
If you wish to baptize your child at Saint James, the first step is to get a Baptism packet from the parish office.
At least one parent must be Catholic with the intention that your child will become a fully initiated member of the Catholic Church.
Attend and complete an Orientation Appointment, and a Pre-Baptism Instruction Class at Saint James. See schedules for classes and registration information listed below.
We appreciate your commitment.
We'll accommodate your circumstances.
If you are a godparent  residing outside of the Archdiocese of LA and you can't find a Pre-Baptism class, please obtain a letter from your parish priest indicating that you are qualified and ready to be a godparent. If you are a Christian witness and no pre-baptism class is available, please send me an  email for assistance.
By submitting your child's birth certificate, final decree of adoption (if applicable), Pre-Baptism Class Certificates for parents and godparents (if class not taken at St. James)  you will help our wonderful team make it a great experience for you and your child. Note: We do not accept online baptism course certificates.
What you need to know about godparents.
If you're a parent, you may select two godparents (one female & one male). We as a Church, only require one godparent. For more info, please see "Requirements for Godparents."
If a godparent cannot be present at the Baptism, the parents may choose a proxy to stand in for them. The proxy must be a baptized Christian. The proxy does not have to attend a Pre-Baptism class. Parents may not serve as their child's godparent.
We want to give the godparents the right information to make it easier for them
Godparents must be over the age of 16, fully initiated in the Catholic Church (Baptism-Eucharist-Confirmation), and a practicing Catholic.
What other valuable information must godparents know?
The godparents and Christian witness must attend a Pre-Baptism class. They may attend a class offered at a parish near their home, but no online classes.
If they do, they may submit a certificate of attendance to the Parish Office.
Baptism Class
Registration
Classes are held once a month in Room 6 of the Parish Center from 7:00 pm – 9:15 pm. Choose from the dates below and send us an email. In the email, please include your name, whether you are a parent or godparent and the date of your preferred class. No online course completion certificates are accepted.
2017
September 18
October 17
November 21
December 20
Celebration of Infant Baptism
Baptisms begin at 2 pm in the Church.
2017
September 24
October 8 & 22
November 5 & 19
December 3 & 17
To schedule a Baptism, choose from the dates listed above after completing all of the above requirements for the parents, godparents and Christian witness and send us an email with your preferred date.
Please confirm at least one week before your date by calling the Parish Office at 310. 372.5228 or sending an email.