ACCW Archdiocesan Council of Catholic Women | Business Owners Forum | Women's Guild | Bingo | Catholic Daughters | Catholic Golden Age (Seniors) | Harvest Festival/Silent Auction | Knights of Columbus | Sunday Hospitality | Women's Guild | Young Adult Group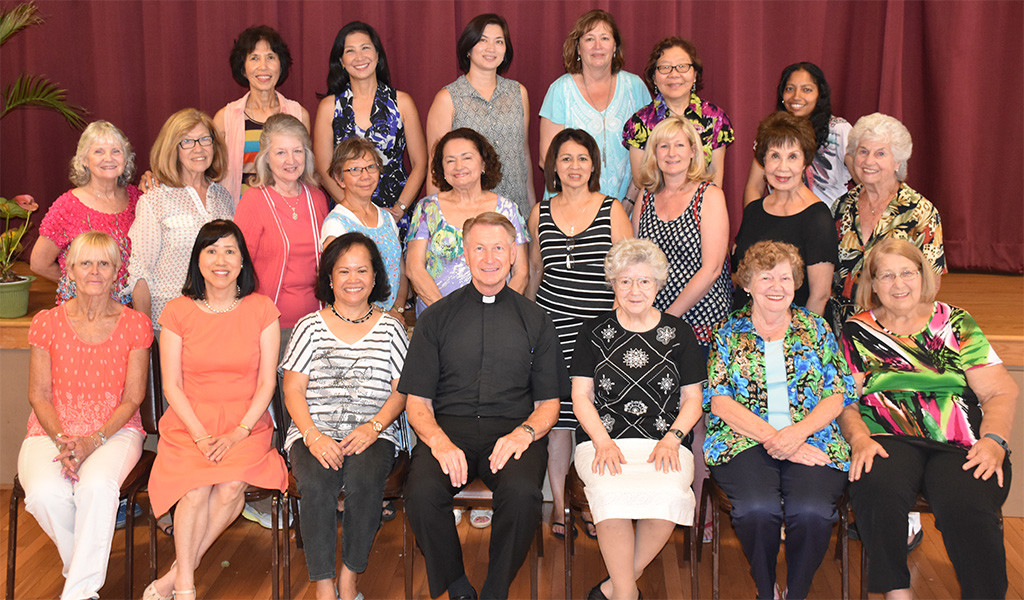 Women's Guild
Ely Ronkowski
310.944.3355
Women, ages from 25 – 85,
come together to share the Catholic faith
by performing spiritual, service, and social ministries to help the parish
grow with our time, talent and treasure.
We meet every 2nd Wednesday of the month
at Kavanagh Hall from 7 -8:30 pm.
Harvest Festival/Silent Auction
Last Weekend in October
Donations Requested – St. James School
310.371.0416

Sunday Hospitality
Chris Salfity 310.798.9776
Barbara Molina, Scheduler 310.429.7976
Getting to know others is
what God's family is all about.
   Get to know other people. Come and join us for coffee
and doughnuts after the 8 & 10 AM Sunday masses.
Bingo
Join us on Thursdays
at 6:45 pm at Kavanagh Hall
Business Owners Forum
Meeting beginning September 2, 2015 – 7:30 AM Parish Center
Then every 1st Wednesday of the month
Tony LoBue
email
ACCW Archdiocesan Council of Catholic Women
Archdiocesan Council of Catholic Women – enable, support and empower Catholic women to better serve the Church and community, and to serve as a link between the women in the parish and the Archbishop, the Auxiliary Bishops, the offices of the Archdiocesan Catholic Center and their programs and resources.
Every Catholic woman, through her parish, is a member.
Catholic Golden Age
Madeline Young
310.540.1710
Our Catholic Seniors meet on the 2nd Tuesday of the month at 2 pm at Kavanagh Hall.
Young Adults Group
Toyo Kimura
562.810.5816
The St. James Young Adult Group is for ages 20's-40's "working professionals."
We meet on the 2nd Wednesday of each month in Room 4 of the Parish Center, alternating between faith sharing meetings and socials.
The group welcomes any Catholics new to the area and looking to join a group with like minded people who are unified through our faith and religion.
email  or  Facebook.